Device name(s): Diagonal Diverters/Diverters/Diagonal Street Closures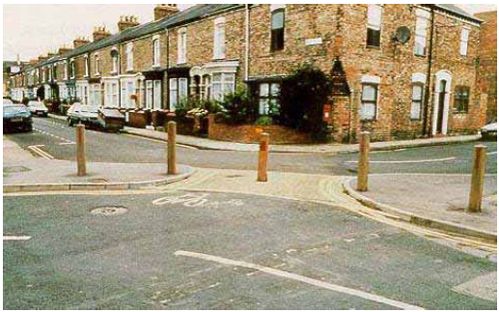 Approximate Cost:$50,000 – $75,000
Definition: A diagonal diverter is either a raised median, bollards, and/or another type of treatment placed diagonally across an intersection to restrict through traffic movements.  Diagonal diverters split a four-way intersection into two L-shaped turns.   Bicycle and pedestrian access may be maintained  by providing breaks in the treatment.  The purpose of a diagonal diverter is to reduce traffic volumes along a roadway and divert traffic to adjacent streets. The use of the inverters interrupt traffic flow on a street reducing or eliminating through traffic, but maintains traffic circulation. Diverters are barriers placed across four–legged intersections, interrupting through traffic flow. These barriers can be used to create a maze–like effect in the neighborhood.
Fast Facts:
Can be used on Local Street- yes
Can be used on Collector- possible
Can be used on Arterial- no
Reduces Speed- possible

Reduces Volume-  yes
Noise Impact- no
Restricts Access- yes
Bicyclist Impact- possible
Transit Impact- yes
Parking Impact- no
Emergency Response Impact- yes
Advantages:
reduces cut-through traffic
bicycle and pedestrian access may be maintained
eliminates through traffic
provide areas for landscaping
reduces traffic conflict point
increases pedestrian safety
can include bicycle path connection
Disadvantages:
impacts access
increases trip lengths
increases traffic to adjacent streets
may inconvenience residents trying to access their property
may inhibit access by emergency vehicles
may divert through traffic to other local street
increases response time for emergency vehicles
vehicle can turn it higher speeds because there is no opposing traffic
Criteria/Application(s):
The purpose of this type of closure is to force traffic back onto the arterial roads around the neighborhood.